Becky
All dates for trail training, events, training courses and workshops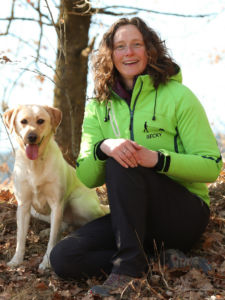 I trained and qualified in Austria to become the UK's first Pettrail /Mantrailing Trainer and am currently the only full-time trainer teaching pettrailing in the UK. My canine partner is Mabel, a Labrador cross who started life herself in a rescue centre. A real life rescue dog turned rescuer.
I run regular training sessions, events and workshops across the UK. In addition, offer search advice and services to families with lost pets.
One of my main tasks is to train future PETTRAILER teams and Pettrail trainers.
If you have further questions or would like more information, please email info@pettrailer.co.uk
Events / Training Trails
PET SEARCH TEAM TRAINING: Bolton, Greater Manchester Try something new for your morning walk, with our Early Bird Trail! SUITABLE FOR ALL – from complete beginner to experienced mantrailers. All dogs welcome! Join us for the ultimate game of hide and seek for you and your dog! Learn new skills or build on existing ones to progress your dog trailing adventures with fun and motivational training. Our training will help you and your dog build a solid foundation on which to build your trailing skills in the search for both people (mantrailing) and animals (pettrailing). Improve your bond with your dog, […]
Find out more