TRAILING
EXPLAINED
What is Pettrailing?
Pettrailing is the search for a specific animal ('runner') by a handler and dog team. The dog acquires the scent of the runner from a scent article and uses its amazing sense of smell and instinctive behaviour to locate them.
The runners scent is as unique as a fingerprint and is left everywhere the runner has been. Dogs are able to 'scent discriminate', i.e. differentiate between different scents in a variety of environments (ranging from a busy city centre to mountainous areas) and are therefore able to follow the unique scent trail left by the runner.
What is Mantrailing?
Mantrailing is the search for a specific person ('runner') by a handler and dog team. The dog acquires the scent of the runner from a scent article and uses its amazing sense of smell and instinctive behaviour to locate them.
As with animals, people also have a unique scent making it possible for a trailing dog to locate them in a variety of environments.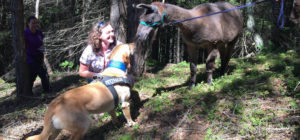 Can dogs do both Mantrailing and Pettrailing?
YES! Our training involves both activities to give you and your dog a wide range of skills on which to build your trailing knowledge and experience.
Why should I trail with my dog?
A few reasons include:
Strengthens the bond and trust between you and your dog by working in partnership to solve a problem.
Reduces stress and anxiety by the release of 'feel good' hormones.
Builds self-assurance, self-motivation, independence and confidence through successful problem solving.
Gives the team a purpose and a job to do.
Why train with PetTrailer UK?
All of our trainers have undergone comprehensive training to provide you and your dog with progressive structured training which will build your trailing skills in a fun and motivational way. Our trainers are qualified in teaching trailing at all levels: beginner to professional.
Trailing is a very complex job so it is very important that a properly trained and experienced trainer guides you and your dog. Our teams are led through various training stages ranging from Basic 1 to Professional with progress recorded in logbooks. The ultimate goal is to train future Pettrailers to the highest standard using only positive training methods.
Who uses trailing dogs?
This incredible skill is utilised by a variety of organisations including police, military, search and rescue organisations and is now available for you and your dog to enjoy as a fun sport together!
What is the minimum age a dog can start training?
Puppies use their noses to find mums milk before they even open their eyes! As soon as your pup is able to go out on walks and mix with other dogs, they can start trailing. Our trails are tailored for the individual dog-handler team completing them, age being one of our considerations. You can be safe in the knowledge that your pup is in good hands! 
There is no maximum age for our dogs either, all ages welcome! Older dogs still need mental exercise, they may be a little slower and have physical limitations but a good time for all without discrimination is our aim.
My dog is reactive can we still train?
Dogs are worked individually making it an ideal activity if your dog is a little nervous, anxious or reactive. Anyone can train with us at any time as each trail is unique, set for individual teams depending on their level and individual requirements – we have something for everybody.
Can I come to a session without a dog?
Yes, join us as a 'Spectator'. Get in touch for further details. Ideal for those waiting to get a dog or that due to personal circumstances can't have a dog of their own. More than just watching, spectators are actively involved in the session. No 'running' involved 😉
I have another question…
Get in touch! 
email: info@pettrailer.co.uk; phone: 07577 676810; 'Contact us'