FLYING HIGH RAFFLE PRIZES
4th Annual Charity Trail Day 2021 – in aid of Pancreatic Cancer UK
Ever wanted to fly a plane? NOW YOU CAN!!
Our Charity Trail Day for Pancreatic Cancer UK Raffle prizes are:
60 min flying lesson with Mainair Flying School 🛫
Behind the scenes tour of City Airport & Manchester Heliport (formerly Barton Aerodrome, Manchester) 🚁
👇 THIS IS HOW 👇
For your chance to win one of these epic prizes just buy a raffle ticket!!
£2 per ticket or £10 for 6 tickets
WINNERS WILL BE ANNOUNCED AT 4pm, Sunday 5th September 2021
Purchase your tickets by:
1 Pay cash for your raffle tickets at any Pettrailer UK training session from today, 14th August 2021
2a. Pay for your tickets via justgivingpage – https://uk.virginmoneygiving.com/PancreaticCancerUKFundRaising
2b. Send Pettrailer UK a message via FB, Instagram or twitter with a screen shot of your donation confirmation, how many tickets you want, your name and phone number*
2c. You will then be sent a photo of your raffle ticket numbers
3. Buy your tickets from Ginger&Browns Pet Shop at Blakemere Village, Northwich from Monday 16th Aug.
4. Buy tickets on Sunday 5th Sept at our Charity Trail Day
GOOD LUCK EVERYONE & THANK YOU!!
* all personal details will be destroyed after the final draw and winners have been notified.
Pancreatic Cancer
Pancreatic cancer, even with symptoms is hard to diagnose early and so when it is, there is a sense of urgency in treating people, as it is the most aggressive and quickest killing cancer.
Usually, once pancreatic cancer is diagnosed, it is too late and has almost always, progressed aggressively to the latest stage making it inoperable and less susceptible to treatments.
Following the devastating news that one of our trailing friends has been diagnosed with inoperable stage 4 pancreatic cancer we have decided to dedicate our 4th Annual Charity Trail Day to raising much needed funds for Pancreatic Cancer UK (https://www.pancreaticcancer.org.uk/).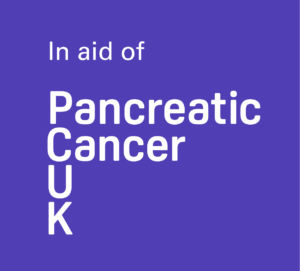 An Inspiration
We have known Pettrailer Stan and his family for many years and it has come as a shock to all of us to learn of what they are currently facing. They are enduring a difficult and heart breaking journey but are trying to stay positive and hopeful. Ian has donated a part of the tumour biopsy and blood from his portal veins for Christie's research, hopefully to help with earlier detection and correct treatment(s) for future patients.
Debs and Becky (Ian's wife and daughter) together with our Stan have walked over '100,000 steps in June' raising over £880 so far!! They are also planning future events to raise funds to aid Pancreatic Cancer UK, in their research into an earlier diagnosis as this type of cancer is the least researched cancer due to lack of funding.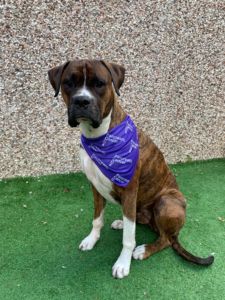 This is why we will be doing everything we can to raise as much money as possible to add to their fundraising pot for Pancreatic Cancer UK. In addition to helping raise awareness of pancreatic cancer and the challenging work Pancreatic Cancer UK are undertaking. Our 4th Annual Charity Trail Day will have lots going on throughout the day for the whole family, with 100% of all proceeds to be donated to Pancreatic Cancer UK.
Charity Trail Day – 5th September 2021
We are very fortunate to be holding our 4th Annual Charity Trail Day back with our friends at the dog friendly Blakemere Village near Northwich in Cheshire on Sunday 5th September 2021, 10am-5pm. There will be fun activities for all the family including 'Try-a-Trail' – see for yourself how amazing your dogs nose really is!; 'Dogbola' – can your dog pick out the winning numbers?; goody bags; tombola; games and much more. You can still join us even if you don't have a dog!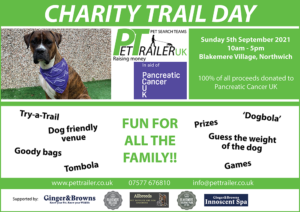 Try-a-Trail for Charity!
Try your hand at mantrailing and pettrailing with our experienced trainers. No prior experience needed as we will guide you through all you need to know. For those who have trailed before we'll set unique trails just for you and your dog based on your experience. All trailing styles welcome and all dogs welcome.
You can book your trail on the day, but if you want to beat the queues you can book your ticket in advance. There is a maximum of 2 trails per team on the day, to ensure everyone gets a chance to have a go.
All you need is a well fitted harness; long line; reward (dogs favourite moist food); water; suitable clothing and footwear and be prepared to be amazed by your dogs fantastic sense of smell
Payment for the event will be completed as follows:
book and pay for your trail ticket in advance
pay on the day a suggested minimum donation of £12 for each of your trails, places limited*
100% of all proceeds will be donated to Pancreatic Cancer UK.
So take part in exciting trails for you and your dog, also try your luck in our charity tombola and other fun activities – some great prizes to be won!
Can you help?
We are looking for prize donations for the event, we appreciate everyone has had a difficult 18 months, anything you can spare would be greatly appreciated and as a thank you, you will be included in our Supporters List which will be published across local and social media. We are looking for both doggy and non-doggy related prizes which could be toys, treats, vouchers, discounts etc.
If you are able to help please get in touch: info@pettrailer.co.uk or 07577 676810
If you are not in a position to donate anything you can still help us to promote our event by sharing it to your social media followers and customers, https://www.pettrailer.co.uk/event/annual-charity-trail-day-2021-050921/
We thank you in advance for any prize donations you are able to give or help with getting the word out about our Charity Trail Day 2021 in aid of Pancreatic Cancer UK!
We hope to see as many of you as possible on 5th September!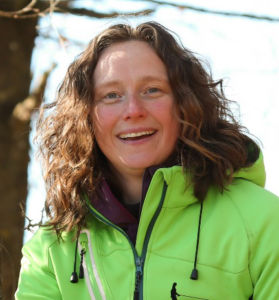 Originally from the Northwest of England, Becky now lives in South Wales. A former Geologist, Becky made the jump to making her dreams of working with dogs full time a reality. Witnessing first hand the benefits trailing has on both dog and owner, an all inclusive activity with no bias against breed, disability or age, the right decision had been made. Now Becky is one of a few full time Pettrail trainers in Europe, travelling across the UK and Europe training future lost animal search dogs and assisting in lost animal searches.